LATEST! Manchester Pride 2016 LIVE BLOG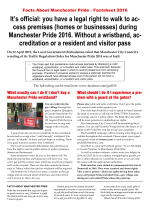 Over the Manchester Pride weekend we will run our live blog again right here, starting on Friday. Let us know your experiences getting in to the gay village without a wristband -- whether good or bad. Contact us by using the mail form here or email us at: pride2016@factsmcr.com.
Our 2016 factsheet is now available as a PDF document.
Also as two images: page 1 | page 2
Important news about Manchester Pride tickets and wristbands 2016
Following a ruling by the Local Government Ombudsman in April 2015, you DO NOT need to buy a ticket or wristband to walk along the pavements of the gay village during the Manchester Pride weekend this coming August. If you are a resident you and your visitors DO NOT need a pass to get to your home. It is UNLAWFUL to block you.
The Ombudsman stated that your right is to make your way to homes or businesses where no alternative route exists. However it's unclear why and how alternative routes come into this at all.
Please note that a wristband IS required to get into event areas on private property, such as car-parks, and access into some bars and clubs. Though other bars and clubs will let you in without a band, as has happened for several years now.
In fact campaigners first found out about the legal situation because in 2012 (and possibly in earlier years) Crunch Bar insisted that customers without bands should be allowed to reach their premises. Yes the gay village bars, Pride and City Council have known the true situation for a long time but chose to keep the public in the dark because it was profitable to do so.
SACKVILLE PARK
The latest development is that the Citywide Highways Manager at Manchester City Council has stated that entry to Sackville Park can't be denied to non-wristband holders. More to come on this.
NEWS BLACKOUT
The second thing to be aware of is that there is an almost total media blackout about this news. This in itself is most interesting.
It tells you what the mainstream and gay media are concerned about: not the legal rights of the public and unlawful behaviour of a gay pride organisation, but commercial profits, ad income being dented and political correctness. Yet note how they harp on endlessly about Stonewall in 1969 which was a street riot about civil rights.
Manchester Pride itself is staying quiet and not letting you know the wristband situation. Instead there is spin about how the community has been engaged with in recent years and (would you believe it?) transparency!
Don't believe the hype, the Facts About Manchester Pride campaign is as strong as ever and has had a stunning victory against the unlawful barriers.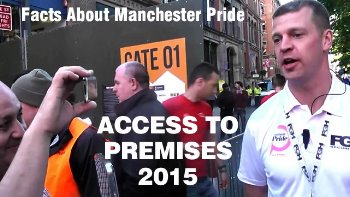 During Manchester Pride once again we ran a live blog as members of the public insisted on their legal right to walk on the pavements of the gay village without paying.
The situation had changed somewhat since 2015! Read more...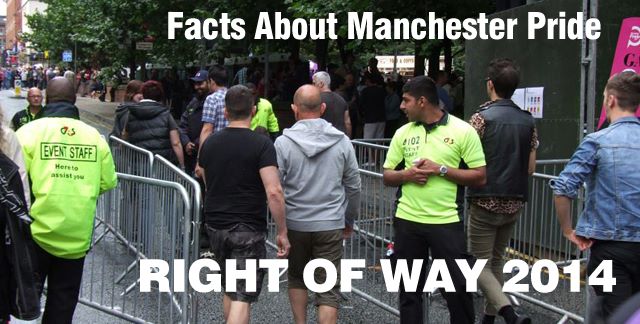 Here's what happened as campaigners and other members of the public challenged the gates during Manchester Pride weekend in 2014. Despite clear written advice from the Department For Transport, officers of Greater Manchester Police stood and watched as people were unlawfully blocked from the public pavements by private security guards. GMP receives a payment of around £50,000 from Manchester Pride for policing each year! Read more...
We've assembled video evidence with some notes at this link:
Welcome to our new website
We've had a redesign and this new site should work more effectively on a range of devices.
Please bookmark us and call back for updates galore over coming months.
Media watch
A look at the lies told by the media in association with Manchester Pride.
PRIDE AND THE MANCHESTER EVENING NEWS CONTINUE TO MISREPRESENT MANCHESTER'S LGBT HISTORY
In an article dated 2 May 2016, the Manchester Evening News claimed that 2015 was the "25th anniversary of LGBT celebrations in the city." This is untrue.
There were pride events in Manchester that we know of in August 1985, June 1986 and June 1990. There was the Section 28 March in 1988 and an event called Love Rights '89 in 1989 which was billed as a "celebration of Lesbian and Gay Sexuality."
In the article, Mark Fletcher the CEO of Manchester Pride, is quoted saying "twenty five years of LGBT events in the city goes to show what an open city we live in." Fletcher claims he has been misquoted by the Manchester Evening News. But, despite that and emails from other people, the article hasn't been corrected.
This year, Manchester Pride has received almost £60,000 of Heritage Lottery cash for a proect charting our LGBT history! It seems rather pointless when they are party to "news" articles which misrepresent the history and facts to hundreds of thousands of people.
GAY VILLAGE CLOSED "AS USUAL" -- MEN
On 25 August 2015, the Manchester Evening News wrote: "as usual the gay village will be closed to people who do not have wristbands."
That was a lie as the previous April the Local Government Ombudsman had ruled that members of the public and residents had a legal right to access premises without a wristband. What had happened in previous years had been unlawful. Yet the MEN didn't think that fact was newsworthy!
The Manchester Evening News didn't reply to several emails and the article remains online misleading the public.
Our mail form can be found here.
Our forum includes some older news stories and articles.
OTHER NEWS
Greater Manchester Police and the law on alcohol
It is against the law for licensed premises to serve either a person who is drunk or an associate who is buying alcohol to give to a person who is drunk.
How many actions do you think Greater Manchester Police (GMP) took against licensed premises for doing this in the whole of 2015?
A Freedom of Information request has revealed there was not one single enforcement in A Division (North Manchester) or E Division (South Manchester). This also applies to the area of the Gay Village.
"Pubs and clubs 'routinely' break the law on serving drunk people: Study shows just one in six are turned away from the bar" Mail Online
Which "north-west city" was this experiment conducted in? How do other towns and cities measure up? We are finding out...
Why does it matter? GMP is eager to suggest that the "pusher" doesn't exist and that men are falling into the canal to their deaths due to being drunk.
Bloom Street has been named as the joint 15th most crime-ridden street in England and Wales. 25 years ago the gay village was quite safe.
The fences at Manchester Pride (which we have campaigned about for many years) have long been justified by the crime and violence which are, in turn, fuelled by alcohol. Police officers stood, watched and ignored unlawful obstruction of the public at the gates of Manchester Pride in 2014. GMP is paid some £50,000 a year by Manchester Pride (a limited company) for policing.
Meanwhile, GMP's professional standards unit is being investigated for "criminal wrongdoing."
Are the police part of the problem and have they been for many years? When police inaction on alcohol enables a large amount of violence and sexual attacks on LGBT people, allows men to become so drunk that they slip into the canal to their deaths, when officers stand by while LGBT people and residents are unlawfully blocked from public streets... Is this better or worse than the days of Chief Constable James Anderton? When at least we were safe on the city centre streets at night.
Itís official: you have a legal right to access premises (homes or businesses) during Manchester Pride 2015. Without a wristband, accreditation or a resident and visitor pass.
On 22 April 2015, the Local Government Ombudsman ruled that Manchester City Councilís wording of its Traffic Regulation Order for Manchester Pride 2014 was "unlawful." See the ruling here:
Here's the 2015 Temporary Traffic Restriction Order which we received from Manchester City Council on 28 August: